What are layers?
You can think of layers as being like sheets of paper that are stacked one on top of the other. Transparent areas of a layer reveal the layer below, while opaque parts of a layer obscure the layers below.
All layer management is carried out from the Layers panel.
Here are some important points regarding layers:
Once editing and designing has begun, all documents will have at least one layer.
The order of your layers is important. A layer at the top of the panel is at the front of your document and vice versa.
Any selected layer(s) are highlighted, so that you can always see what layer you are working on.
Any layer can be hidden, to exclude its content from displaying in your project.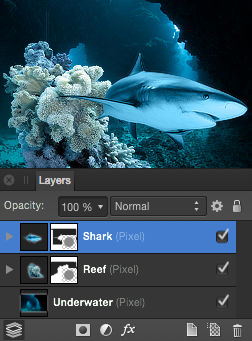 Types of layer
There are several types of layers that can be created:
Pixel layer—containing raster images where pixel-based editing takes place.
Image layer—self-contained placed images that retain the original image data including the color profile.
Mask layer—defines what content is hidden to reveal layers beneath.
Adjustment layer—used to correct or enhance the layers beneath non-destructively.
Fill layer—used to apply a adjustable solid or gradient color.
Pattern layer—applies a pattern that is repeated across the entire document.
Live filter layer—a layer containing a non-destructive live filter.
Vector layer—vector content, such as curves, shapes, compounds, and text objects.
Group layer—an organized container of multiple layers that behaves as a single object.
Linked/Embedded document layer—placed non-native documents (such as PDF, PSD, SVG, EPS) and native Affinity documents (afphoto, afdesign and afpub) files.