Spread setup
Once you've created pages or spreads during document setup you can change them individually to have different dimensions (with control of object scaling), orientations and margins.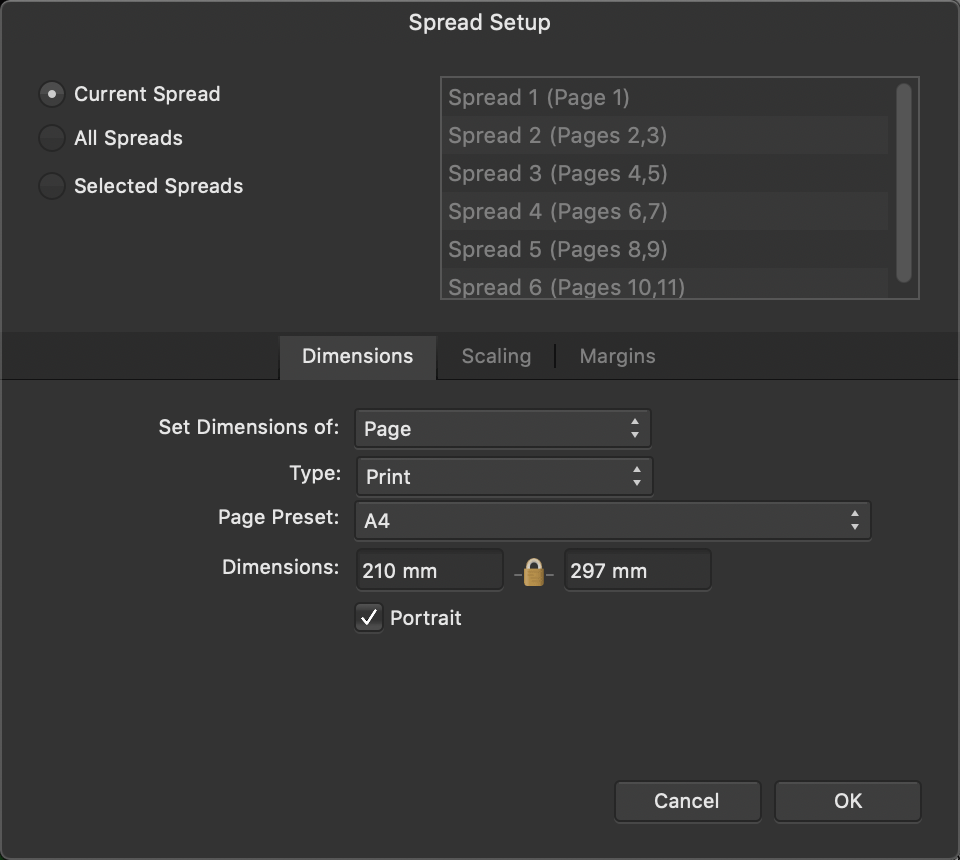 To set page/spread properties:

On the

Pages

panel, -click the page (or master page) thumbnail from the Pages or Master Pages window.
Select

Spread Properties

.
To modify your spread setup:

From the

File

menu, select

Spread Setup

.
The settings are as follows:
Current Spread

—Applies the setup to the current spread.

All Spreads

—Applies the setup to all spreads within the document.

Selected Spreads

—Applies the setup to selected spreads within the document. Select the spreads you would like to include from the column on the right.
The dialog is split into separate tabs which let you customize your current preset or apply more advanced settings.
For Dimensions:

Set Dimensions of

—Specify the part of the spread you would like to set the dimensions of.

Type

—Select the aim and deliverable for your project (for quickly populating settings below). As well as print, you can work to specific Photo print sizes, specific Web screen resolutions, and with the Devices option, design to iPad, iPhone, Apple Watch and Nexus document specifications.

Page Preset

—Offers sizes for UK/US print, photos, screen use, and mobile devices. A Custom option indicates if your page is using non-standard page dimensions.

Dimensions

—Change these values to make a custom spread size. (An alternative to selecting a Page Preset size above.)

Portrait

—Uncheck to present your spread in landscape orientation.

For Scaling:

Use an

Objects will

option when changing page size to make objects scale or make object size remain unchanged by anchoring to page (or spread).

Anchor

—controls the scaling of objects (when Object will Rescale is set) in relation to the currently set anchor point.

Resample

lets you control how objects are resampled when Objects will Rescale is set.

For Margins:

Include Margins

—Check to switch on page margins.

Left Margin, Top Margin, Right Margin, Bottom Margin

— Sets the printer margins, showing as non-printable blue lines. Click

Retrieve Margin from Printer

to use your default printer's settings.