Artboards
Artboards are discrete design areas, of any shape and size, within the same document, on which you can place design elements. Objects which extend beyond the boundary of an artboard are clipped to the edge of the artboard's design area.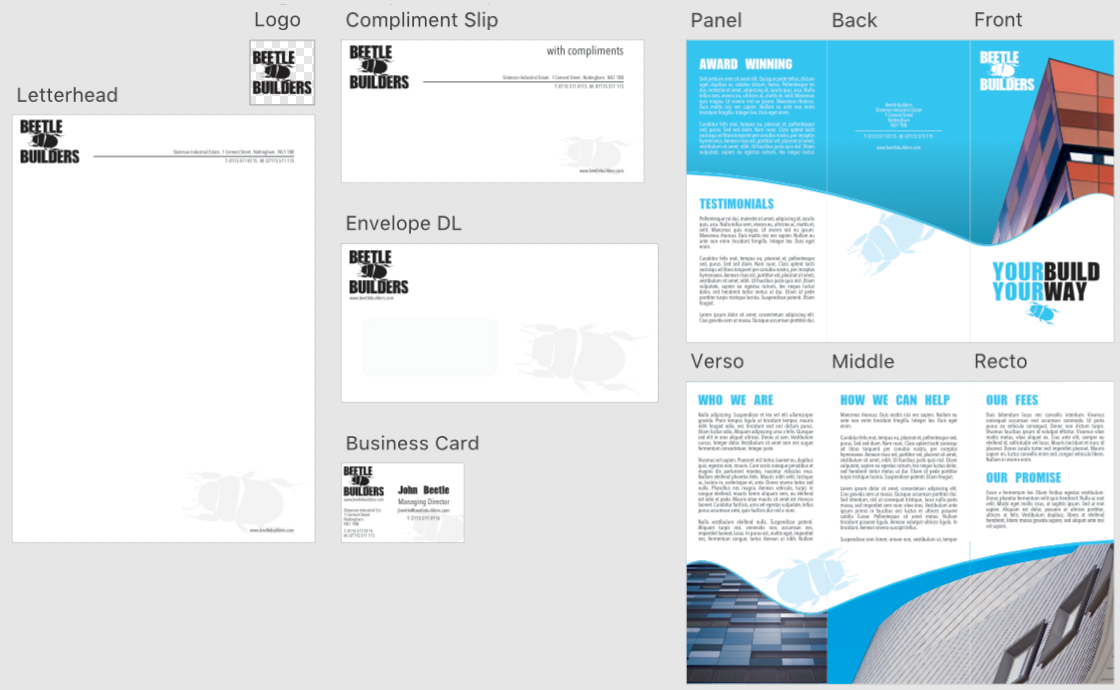 About artboards
Using artboards, you can convert a single page document into a multi-page, multi-product design project. Their true power lies within their flexibility—artboards have limitless uses.
The size of artboards can be based on presets or customized to suit your needs. They can be moved and resized just like other objects in a document and can be arranged in any way you want—sometimes this will be important to the outcome of the design, other times it simply helps you organize your work.
Artboards also possess their own color and opacity properties, so these can be adjusted at any time during the design process.
Artboards can be exported and printed together or separately, but are all saved together in their parent document.
Artboard topics:
Some uses for artboards

Two artboards of equal size might represent two sides of a page.
Several artboards of varying sizes could be used to create a branding concept including a company logo, letterheaded paper, compliment slip, envelope, business card and brochure.
Various sized artboards might be placed together for an advertising campaign which includes a billboard poster, full- and half-page ads, flyers, as well as web banners and rich-graphic emails.
Numerous artboards of equal size showing different screen displays of a mobile app.
Two equal sized artboards could be used to design the back and front of a book cover, with a third, changeable width artboard in the middle to accommodate the spine.
Numerous artboards of equal size could be created to allow for the design of a pack of cards.
Progressive mock-up artboards might be placed together leading to the final, signed off design artboard.
Several artboards displaying color variants of an identical design.
Various sized artboards arranged logically to form the basis of a concept sheet for character design.