What are layers?
You can think of each layer as being like an individual drawer in a clothes chest of drawers. Within that drawer you place shirts or blouses that are stacked on top of each other. In layer management, these clothes items are our individual vector objects, sometimes overlapped, sometimes not. Using our analogy, if your chest of drawers was see-through and you looked directly down from above it, you would see the topmost drawer contents in the foreground, the bottom contents in the background, and all other contents ordered in between.
All layer management is carried out from the Layers panel.
Here are some important points regarding layers:
The order of your layers is important. A layer at the top of the panel is shown in the foreground of your document view, with the lowest layer in the background.
Any selected layer(s) are highlighted, so that you can always see what layer you are working on.
You can create sublayers, which are child layers nested under a parent layer. Sublayers are perfect for use as an extra level of object organisation in more complex documents.
Any layer can be hidden, to exclude its layer objects from displaying in your design.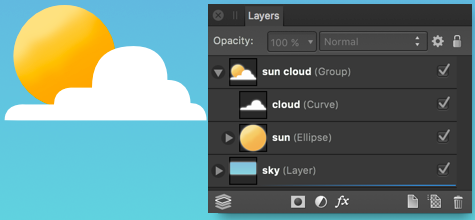 Types of layer
There are several types of layers that can be created:
Vector layer—used for placing vector objects into.
Pixel layer—used for pixel based editing.
Mask layer—special layer that allows you to define what content is hidden to reveal layers beneath.
Adjustment layer—special layers that can be used to correct or enhance the layers beneath.