About the Styles panel
Styles are made up of effects, stroke properties, or text attributes and combinations of these. The Styles panel lets you apply these properties easily.
Simply a drag of an .afstyles file onto the Styles panel will add styles in their original category.
You can also save any object's style to the Styles panel for future use.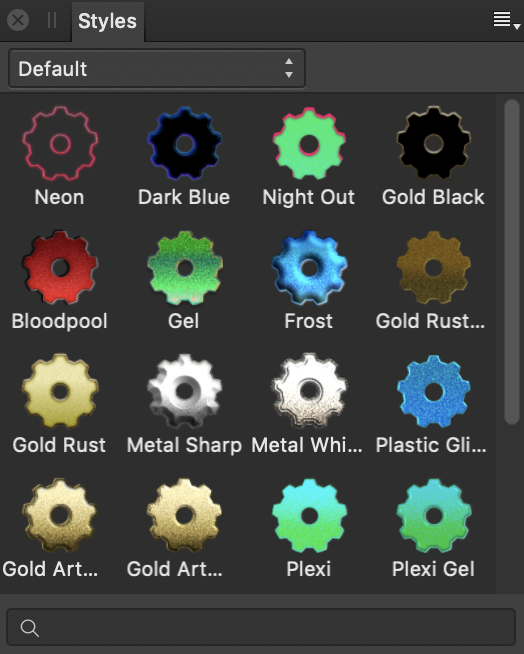 The panel displays the following:
Category pop-up menu. To display style thumbnails for the chosen category.
Style thumbnails for the current category.
Search—allows you to filter styles in the panel to those with names which conform to the search criteria. Type directly in the text box.
Settings

The following options are available from the Panel Preferences menu:
Add New Category

—creates a new style category that you can save your custom styles into.

Delete Category

—deletes the currently active custom category.

Rename Category

—renames the currently active custom category.

Import Styles

—if styles have been previously exported to a file you can import them using this option.

Export Styles

—exports the current category, and its styles, to a file.

Show as List

—displays the styles as a list.

Add Style from Selection

—if your object is selected, select this option to save the object style to the current Styles panel category.