Location panel (Develop Persona only)
The Location panel allows you to review and set the GPS metadata of your raw image.
Raw images from cameras with built-in GPS capability will show the image location in the Location panel. For all other cameras, the image location can be set manually from the panel instead.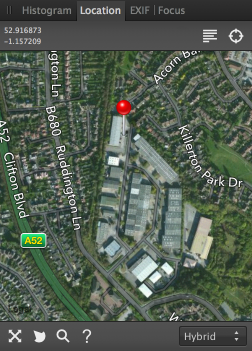 Options
The following options are available in the panel:
Click anywhere on the map to set the location of the pin. This information will then be integrated into your image's metadata

Address

—search for a location using an address.

Locate

—sets the pin to your current location (see note below).

Scale guide

—displays the measurements used in the map.

Compass

—provides the ability to rotate the map for convenient navigation.

Zoom

—provides the ability to zoom in or out of the map.

Points of Interest

—displays landmarks on the map.
Map views—sets the type of map which displays in the panel. Select from the pop-up menu.